Japan 2018: Mid Budget Travel Tips
Last year, my partner and I finally fulfilled one of our long-standing entries on our travel wishlist: Japan. Being the giant anime/gaming nerds we are, Japan has always had an enormous draw on us for its mish-mash of modern and traditional culture, the amazing food far beyond just sushi, and its countless natural beauties.

One of the reasons we hadn't gotten around to visiting Japan until last year was the reputation it has for being expensive. But once we started seriously looking into this, costs actually didn't turn out to be quite that bad as we considered ourselves mid budget travelers: definitely not going for all the luxuries, but also not shoe-stringing it like college students.

So for anyone who's got that same mindset, here's an overview of my recommendations for any other first-time mid budget traveler to Japan.
When To Go
Spring and autumn are the busiest times in Japan, spring for its cherry blossoms and autumn for its colors.
Due to other plans, we ended up going for autumn late November to early December. We still saw many reds and yellows but it was on the late side for some areas – you probably want to aim for early to mid November instead!
I haven't looked into spring as much but every website I've seen pretty much recommends avoiding Golden Week in May: super busy then!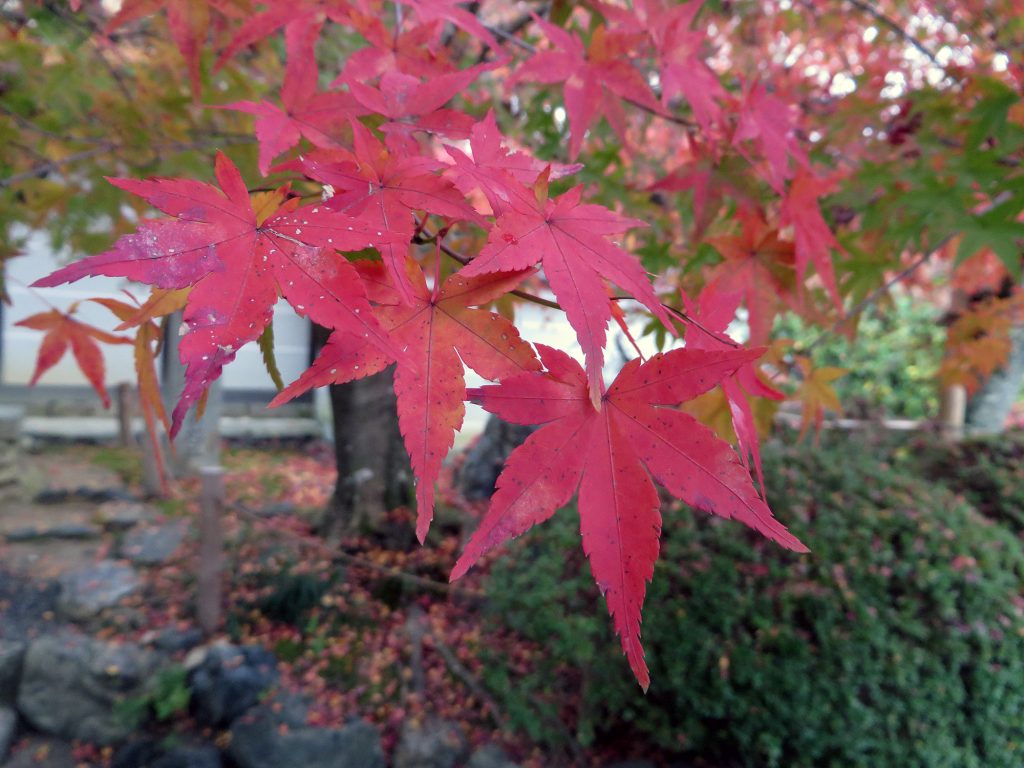 Packing
Travel light: get backpacks that are carry-on size that fit about a week's worth of clothes (I got an Osprey Farpoint 40). While this makes it harder to bring home lots of souvenirs, public transportation in Japan doesn't have a lot of luggage space so save yourself the trouble of lugging around big suitcases!
Laundromats are readily available: bring clothes that you can throw into the dryer (no fancy silks!) meaning you only have to make a laundry run once a week for about 90 minutes to wash and dry immediately. Hold onto your ¥100 coins as most washing machines take 4-8 of those to run, detergent is provided there.
Bring layers! While autumn and spring are great for not being too warm or too cold, that also means you can't really bring just light shirts or thick sweaters. Along with an autumn outer coat and scarf, I brought two regular sweaters, one warm fleece sweater, 4 t-shirts and 4 long sleeve shirts so I could layer it up in different combinations as necessary.
For electricity, you just need US plugs! Easy peasy.
Cash money is still used a lot in Japan, and not all bank cards will work everywhere. Make sure to grab some cash either before you leave or as soon as you arrive. Keep an eye out for 7-Eleven's (yes, the US brand) for ATM's that work with most foreign cards.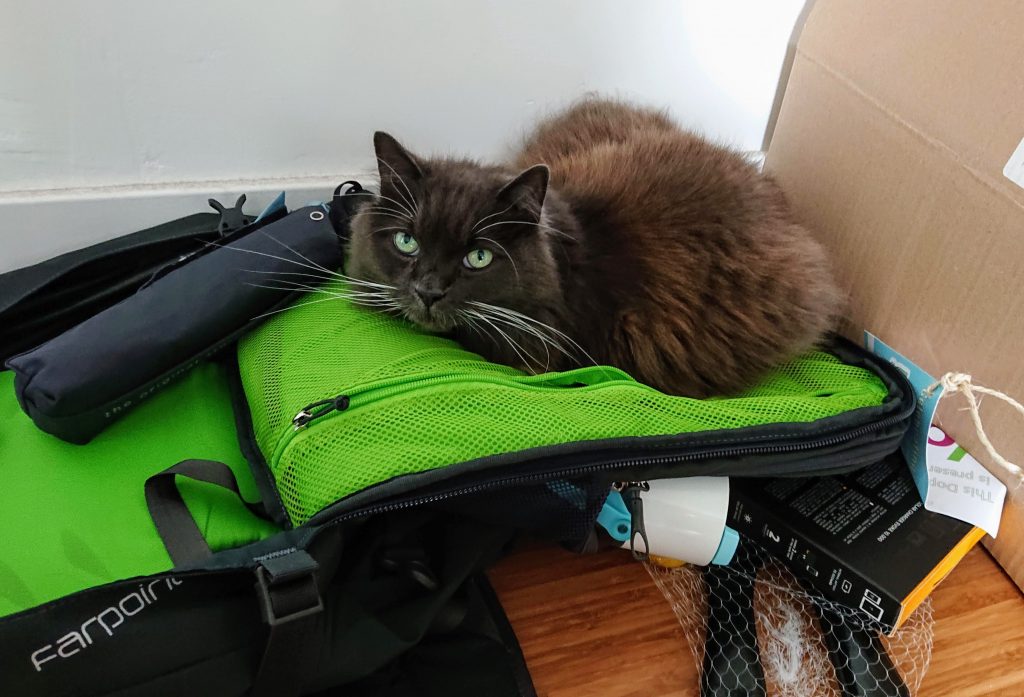 Getting In And Around
Flying from Amsterdam the Netherlands on a KLM flight directly to Tokyo and flying back from Osaka to Amsterdam, cost us about €700 a person.
Japan is known for its excellent public transportation from each city boasting a well-connected metro system to shinkansen i.e. high speed bullet trains connecting many cities. And they live up to that reputation: I've not seen a more efficiently run public transport system! Unless you wanna go way out-of-town, don't bother renting a car.
Get a Japan Rail Pass (JRP)! You can only buy these outside of Japan for free travel on most JR (Japan Rail) train/metro between and within cities. Exchange vouchers at any JR station (including Tokyo airport) for the actual JRP, then just show the pass as you walk through a manned gateway (the automatic turnstiles won't work) and you'll be waved on through, no problem. We got a 21 days JRP for €470 at https://www.japan-rail-pass.com/ (there's also 7 days for €231 or 14 days €368). Note that the shinkansen (bullet trains) run in different variations and the JRP is not valid on some of the highest speed ones.
Get a data simcard for your phone! (we got ours from same website as JRP) Being able to check Google Maps/Translate at all times is a MUST for worry-free travel. There's quite a few English signs/menus, but also still a lot only in Japanese and it's easier to just use Maps for getting around everywhere (I couldn't download any Japan area maps for offline use). Also have Translate on hand just in case: make sure you download the Japanese so you can do live scans for on-the-fly translation of Japanese characters anytime you find yourself without English text!
While JR covers a lot of Japan, some train/metro lines are covered by other companies, requiring separate tickets from the JRP. When it comes to the inner city metro lines, get a rechargable prepaid card! There are different kinds (Suica, Pasmo, etc) that are each active in different regions – they're interchangable for use, though. So you can use a Suica card in Kyoto even though that's covered by Icoca. You just can't get a refund for a card outside of its designated region. That's how we got stuck with taking our Suica cards back home as an unplanned souvenir! Other upside: you can use these rechargable cards to buy from vending machines (of which there are a LOT) too, so you don't have to keep coins on hand if you prefer.
Where To Go & Stay
This of course all depends on what you want to see in how much time, but I'll share our route. We stayed three weeks in total, and took inspiration from a travel agency's first-time-Japan travel route from Tokyo to Osaka for 2 weeks, and spread it out over those 3 weeks to take extra time to recuperate from jetlag and see things at our own pace. Some folks take their travels a little further west to also see Hiroshima but we decided to save that for another trip so we could get the most out of these parts first.
There are different types of hotels for different costs and experiences:

Airbnb: this was our original plan, but I'd heard from various folks that they'd had bad experiences with people using Airbnb as intermediaries rather than booking somewhere directly, so I decided not to go with that.
Hostels: cheap but I'm not a college student anymore, so I'll skip the shared rooms and facilities, thanks. 😉
Capsule hotels: what it sounds like. We were tempted to try out for fun but the practicalities (gender-split floors, separate luggage rooms) weren't worth it for us.
Minshuku: traditional Japanese B&B's, don't know much more about them.
Business hotels, usually 3-4 stars: this is what we usually got because it was easiest and offers western style rooms (with regular beds instead of the traditional low Japanese futons). Costs about the same as Europe in the bigger cities: a 2 person room costs €100-125/night in Tokyo and Kyoto, €75-100 in Osaka, but only €50/night in smaller Matsumoto.
Ryokan: traditional style inn with on-premise traditional baths i.e. onsen. We stayed at one for two nights in Yamanouchi and I highly recommend doing so: the cost was €150-160/night but you get a full on traditional luxury resort experience. Get the Japanese style rooms with futons and everything: they'll actually set those up for you when you go out to dinner, so your room will be changed over without you having to exert yourself. The futons are hard but more comfortable than I'd imagined, although admittedly I was happy to sleep on a regular bed after two nights again!
What To Do
So there's a LOT you can do in Japan, but here's my top 10 highlights from the route we took:

Stay at a ryokan! Not to be repetitive but it really is a unique experience – from the hospitality of the staff to the traditional tatami mat and futon rooms, being provided with yukata (light summer kimono) as bathrobes to wander around the whole resort.
Go soak in the local onsen (hot spring bath: the locals are comfortably blasé about the whole nudity thing) and enjoy the traditional haute cuisine (kaiseki ryori). Nice thing about staying at a ryokan: you don't have to worry about formal dress like fancy restaurants serving kaiseki ryori, because everyone is expected to just show up in the provided yukata's! It's wonderful. And there's ryokan all over Japan, but…
Snow Monkey Park (Yamanouchi): all the free roaming monkeys who have their own hot spring bath! They're incredibly cute, especially in colder weather where they'll actually bathe in the waters (which, by the way, is only meant for the monkeys; we humans can find our own onsen elsewhere). The snow monkeys were why we stayed at a ryokan in Yamanouchi up in the Japanese Alps specifically. Shibu Onsen is a town slightly farther from the train station but closer to the monkeys: if you stay at a hotel/ryokan there, you get free entry to 9 different onsen and can collect their stamps.
Meiji Shrine (Tokyo) and Fushimi Inari Shrine (Kyoto): Japan is littered with many Buddhist temples and Shinto shrines, big and small, touristy and rustic. They're about as numerous as there are ruins on every corner in Rome, while still part of everyday life: I've seen folks in business suits going up to a shrine for a quick prayer after work hours. But the Meiji Shrine in Tokyo and Fushimi Inari Shrine in Kyoto are my favorites.
Meiji Shrine is just this bastion of peace and quiet in the middle of the capital's bustling business district, set in a beautiful park with a man-made forest which you wouldn't know was man-made until you were told.
Fushimi Inari Shrine you might recognize from the many photos of corridors of red torii gates… beware the Instagram crowd, though! If you can come early in the morning or late in the evening when it's quieter. While we couldn't make that work in our trip, I'm told it's worth doing for both the quiet and the mysterious atmosphere.
Ghibli Museum (Tokyo): if you're a huge Studio Ghibli fan like me, then visiting the Ghibli Museum is an absolute must. Beyond special exhibits and gorgeous details like stained glass movie scenes in the building itself, they also have a small cinema that shows short animated movies not shown anywhere else in the world! The only downsides: the movies have no subtitles and tickets are incredibly hard to get on your own.
But you can book this Japanican bus tour to secure tickets; they take you to the Hotel Gajoen (inspiration for Spirited Away bathhouse) first, then the Ghibli Museum, and then the Edo-Tokyo Open Air Architectural Museum. However, it's possible to opt out of the tour at the Ghibli Museum itself, so you can stay there longer. We did and loved it!
Tsukiji Outer Fish Market (Tokyo), Nishiki Market (Kyoto) and Dotonbori (Osaka): all of the food markets! I'm a huge sucker for streetfood and while these are probably overhyped for tourists, I still loved everything I sank my teeth into at these places. I'll highlight some more of the things we found here in a follow-up post all about FOOD!
Nara: just 30-45 min by train from Kyoto or Osaka, Nara has a beautiful park with a whole complex of different temples, where I love the corridors of stone lanterns lining the pathways through the park leading up to those temples. However, Nara's other main attraction is of a very different kind indeed: the park has free roaming deer for whom you can buy crackers to feed, and they've even learned to bow to ask for a cracker! Adorable.
Roppongi Hills observation deck (part of the Mori Museum in Tokyo): although there's a few more observation decks in Tokyo, including the Tokyo Metropolitan Government Building which is free of charge to visit, it's still worth going up to Roppongi Hills despite the entry charge. Why? Because it's the only one that is open air rather than behind glass, which gives you a much better way to enjoy the open view around you. Aim for making it up top around sunset, because on a clear enough day, you should also see Mt Fuji in the distance: well worth a few photos!
Shinjuku / Robot Restaurant (Tokyo): Shinjuku is all about the night life, and it's worth checking out just for that and some of the food in Golden Gai – small alleyways with tiny bar-restaurants where you basically get awesome streetfood. Make sure you see a price ahead of time because apparently folks like to take advantage of tourists, but we got an awesome hot bowl of tempura ramen here for €2.
Also, speaking of tourist traps, Robot Restaurant is definitely one but it's so ridiculous and out there that it's fun to see anyway! Even Anthony Bourdain was blown away by this experience. What more do you need?
Akihabara / Ikebukuro / Odaibo (Tokyo), Den Den Town (Osaka): basically geek central for all your anime and gaming and electronics needs. Complete sensory overload but this was why I brought only a backpack: luggage space limitations were really the only thing keeping me from buying ALL the things here.
In Tokyo, Akihabara is the main area whereas Ikebukuro is the more female-aimed area (featuring butler cafés instead of the infamous maid cafés; we skipped both). And Odaibo is where you'll find the life-size Gundam statue which lights up in the dark, so make sure to go in the evening. In Osaka, Den Den Town is like a mini Akihabara with less sensory overload and still awesome merchandise to spend all your yen on.
Go stamp collecting! There are many kinds of stamps including pilgrimage stamps from temples called goshuin for which you need a special harmonica-paper book. However, I didn't feel comfortable turning something spiritual into a tourist souvenir.
So instead, I did get one of these pretty books but sought out tourist-aimed stamps at different attractions as well as specific "eki stamps" at various train (eki) stations. All the JR stations in Tokyo have one for sure, but outside of Tokyo or on different lines than those run by JR – you can't tell! Discovering where they are is half the fun though. Just go up to the train personnel booth and point at your book asking, "Is there an eki stamp here?" and they'll point you in the right direction if there is. If you need to get an idea of where to go first, here's a list to get you started: happy hunting!
What about the food?!
So I've already covered quite a bit of our Japan experiences, but I've reserved one of the most important aspects of our travels for a blog post of its very own: the food! Continue reading at your own peril of getting hungry…